BENELLI SUPER NOVA TACTICAL 12 GA. SHOTGUN, 14" BBL, ADJ. RIFLE SIGHTS, COLLAPSABLE PISTOL GRIP STOCK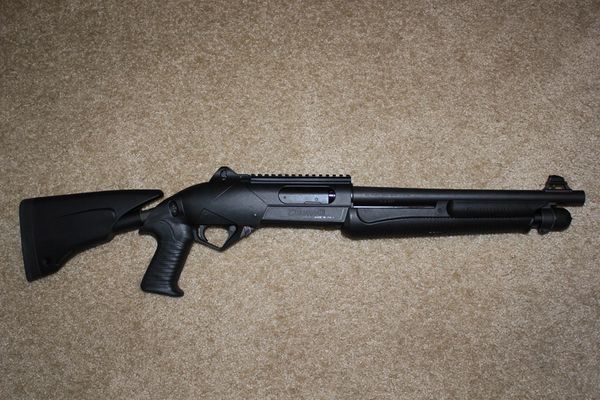 BENELLI SUPER NOVA TACTICAL 12 GA. SHOTGUN, 14" BBL, ADJ. RIFLE SIGHTS, COLLAPSABLE PISTOL GRIP STOCK
BENELLI SuperNova Tactical 12 Gauge 14" With Collapsable Pistol Grip
The SuperNova Tactical pump shotgun has all the features you want in a defense gun, providing complete confidence and peace of mind.
Pump-action reliability

Ghost-ring or open-rifle sights

ComforTech recoil reduction system or pistol-grip stock




Steel skeletal framework over-molded with high-tech polymer

Forend shell-stop button

At the heart of the Benelli SuperNova Tactical shotgun is a lightweight steel skeleton framework over-molded with a high-tech polymer, making this 12 Gauge super-light, super-strong and almost completely impervious to any weather condition. Not just tough on the outside, it has dual-action bars and a two-lug rotary bolt head that locks up steel to steel inside the barrel.

This Tactical version is fitted with a ghost-ring rear sight, M4 style collapsible stock, and a compact 14″ barrel for the ultimate in close quarters maneuverability.
Reviews