GLOCK M22 &31(40S&W/357SIG) CONVERSION 9MM BARREL STAINLESS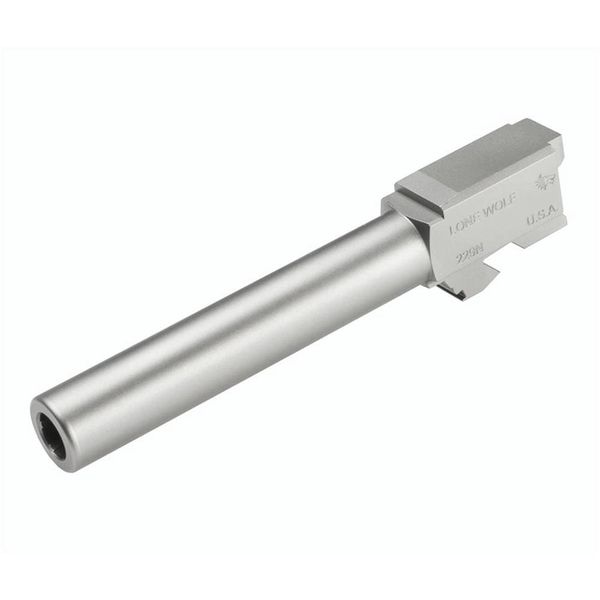 GLOCK M22 &31(40S&W/357SIG) CONVERSION 9MM BARREL STAINLESS
LWD Barrel M/22&31 Conversion to 9mm Stock Length
9mm conversion barrels allow you to shoot 9mm ammunition from your 40 S&W or 357 Sig pistol. These conversion barrels are easy to use and install the same as any other barrel, simply drop it in, no gunsmithing or other modifications are required. We do recommend you use the correct 9mm magazine with these conversion barrels to guarantee reliable feeding. Use G17 9mm mag for G22, G31 and G35 conversion.

Special features include:

Ready to use, pre-fit drop in. No gunsmithing required
Fits Glock Gen3 and Gen4 (SEE NOTE ABOVE)

Precision machined from heat treated 416 stainless steel
Lock-up area produces greater shot-to-shot accuracy
Tighter dimensions than the original
Glass bead, satin finish exterior
Maximum chamber support, improved feed ramp design
Button rifled, standard crown
Ok to use lead, plated or jacketed bullets
Proudly made in the USA
R

eplacement barrels are manufactured from the highest grade mill select 416 stainless steel. CNC machined and heat treated, providing a life time of service and unparalleled accuracy at an affordable price. The standard groove and land rifling make this an excellent choice for those who wish to shoot lead, plated or jacketed bullets. Can be used in factory ported or stock pistols. Intended for use in the Glock 22,31 pistol only. 

PLEASE NOTE: 
Using this barrel in a Generation 4 Glock may cause malfunctions while using the standard Glock recoil spring assembly. 


Special features include:

Ready to use, pre-fit drop in. No gunsmithing required
Fits Glock Gen3 and Gen4
Precision machined from heat treated 416 stainless steel
Lock-up area produces greater shot-to-shot accuracy
Tighter dimensions than the original
Glass bead, satin finish exterior
Maximum chamber support, improved feed ramp design
Button rifled, standard crown
Ok to use lead, plated or jacketed bullets
Proudly made in the USA
Lifetime warranty for materials and workmanship
Reviews