ESCORT/HATSAN 12 Ga.Semi-auto platinum mil/police tactical Olive Drab, alum. telescopic stock, acc. rail on foreend,Ghost Ring Sights...well made accurate and dependable shotgun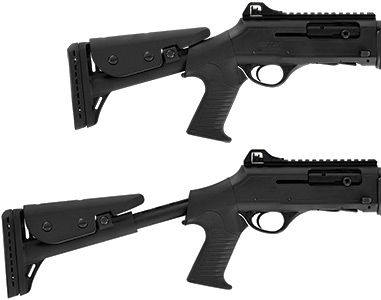 ESCORT/HATSAN 12 Ga.Semi-auto platinum mil/police tactical Olive Drab, alum. telescopic stock, acc. rail on foreend,Ghost Ring Sights...well made accurate and dependable shotgun
Platinum Tactical Shotguns.

12 gauge 3" magnum chamber.

Picatinny rail and ghost ring fibrt optic rear sight

20" slug barrels

Metallic finishes are corrosion-resistant.

Nickel-chromium-molybdenum steel barrels have fixed cylinder chokes, dull matte black finish and polymer furniture.

Aircraft alloy receiver.

Advanced polymer compound synthetic stock.

Spacer shims to adjust the slope of the stock.

Rubber butt pad for recoil absorption.

Manual cross-button trigger safety.

Sling swivels.
Reviews