Ruger Mark III/IV Factory Pistol Magazine 10 Rounds 22lr Blue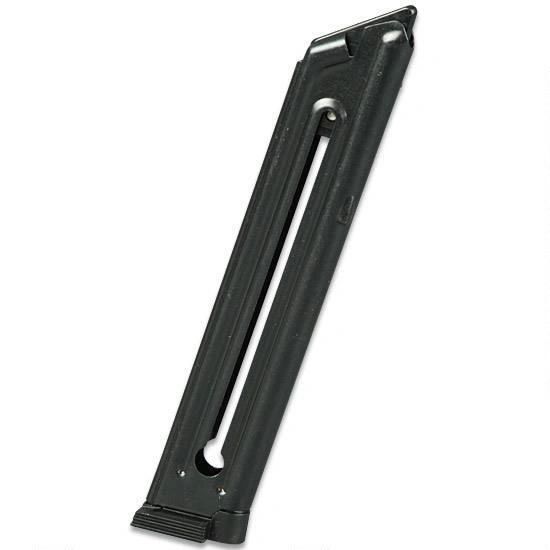 Ruger Mark III/IV Factory Pistol Magazine 10 Rounds 22lr Blue
Ruger Mark III Factory Pistol Magazine 10 Rounds 22lr Blue
Make sure you always have a backup on hand with this spare Ruger Mark III/Mark IV Magazine.
Make range day hassle-free or keep extra protection at the ready with an additional magazine or two. This standard factory replacement magazine is for Ruger Mark III and Mark IV rimfire pistols chambered in .22 Long Rifle. This magazine holds the standard 10 rounds of ammunition, is made of steel, and is made to Ruger specifications and tolerances using the same manufacturing and materials as the original equipment magazines to ensure a perfect fit and operation.
Ruger is an American company and one of the most recognized names in the firearms industry, chiefly manufacturing pistols, revolvers, and rifles. Ruger is a leader in the sporting market, but makes truly reliable guns for every shooters need, producing dozens of popular lines that are all recognized for their quality and rugged performance. Ruger products are seen everywhere simply because they never quit.
A replacement magazine is a great thing to have, but it wont be as helpful without replacement
.22 LR ammunition
. Also, take a look at of our great
holsters
for a seamless, secure concealed carry. Cheaper Than Dirt! has all of the top brands and competitive prices for all of your shooting needs.
Ruger Mark III/Mark IV Pistol Magazine Features and Specifications:
Ruger Factory Magazine
Caliber:
.22 Long Rifle
Capacity:
10 Rounds  
Body:
Blued Steel
Follower:
Polymer
Spring:
Steel
Base Plate:
Polymer
Finish:
Blued
Fits:
Ruger Mark III / Mark IV Rimfire Pistols
Does NOT Fit:
Mark III 22/45 model
Reviews