SPECIALTY ARCHERY L.L.C PRO SERIES SCOPE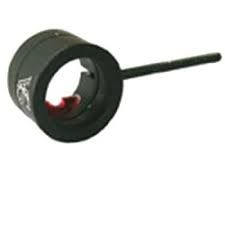 SPECIALTY ARCHERY L.L.C PRO SERIES SCOPE
SPECIALTY ARCHERY L.L.C PRO SERIES SCOPE
The housing is machined aluminum for light weight and durability.
The scope incorporates a precision 2nd axis leveling system, and is perfect for indoor competitions.
Loosen locking screw and rotate the portion holding the level so shots show the same left-right impact points at all ranges.
The scope is easier to use than the 2nd axis adjustments on the scope mounting block.
It is so precise it can compensate for wind drift.
Instructions show how many marks you should move the rear of the housing to produce the needed change of impact at different ranges.
Add the optional Glow Ring (GR3) and you can have an aiming point in blue, green, and red with 0.010, 0.020, or 0.030 fiber size.
Reviews