TRUE ROLL LURES... MANY COLOURS AVAIL.; all hand finished and tied, now #2 West Coast Salmon Lure! Natural cut plug action can't be beat!please call us regarding colours as very high demand and some are out of stock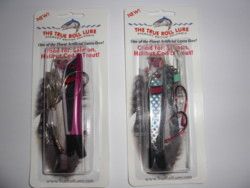 TRUE ROLL LURES... MANY COLOURS AVAIL.; all hand finished and tied, now #2 West Coast Salmon Lure! Natural cut plug action can't be beat!please call us regarding colours as very high demand and some are out of stock
The True Roll Lures were invented in Prince Rupert BC, the home of some of the finest fish in the World! Tested and proven in Fresh & Salt waters in Northern British Columbia & Alaska, landing up to 82 LB Spring Salmon and up to 24 LB Coho.

In the water The True Roll imitates an injured herring in a perfect rolling motion, therefore eliminating the costly expense of buying herring & herring teasers.

The True Roll can be used for mooching, trolling with down riggers with or without flashers, or jigging with spreader bars.

Reviews